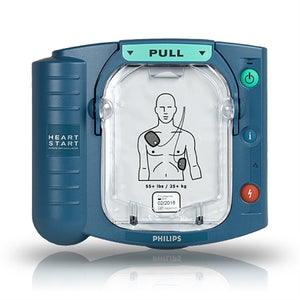 Philips HeartStart OnSite AED
The Philips HeartStart OnSite AED is a portable, lightweight (just 3.3 pounds with electrode pad cartridge and battery pack) automated external defibrillator available over-the-counter and it's so easy to use. Its voice prompt system even has "on-demand" CPR coaching to help you remember 
all of the steps during your resuscitation effort. Do you need pediatric capability? No problem! The Philips HeartStart OnSite has optional pediatric electrode pads available. 

AED Includes: Battery, 1 SMART Pads Cartridge, Reference Guide and Owners Manual.
8 year warranty on Defibrillator, 4 year warranty on battery.