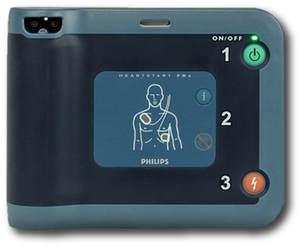 Philips HeartStart FRx Defibrillator
The Philips HeartStart FRx defibrillator features intuitive, step-by-step voice instructions, including CPR guidance, and an audible metronome to help guide basic life support (BLS) responders while treating a suspected sudden cardiac arrest (SCA) Pre-connected SMART Pads II can be used for both adults and children. Rugged, lightweight and reliable, it can withstand rough handling and extreme temperatures. 
AED Includes: Battery, 1 SMART Pads Cartridge, Standard Carrying Case, Reference Guide and Owners Manual.
5 year warranty on Defibrillator, 4 year warranty on battery.