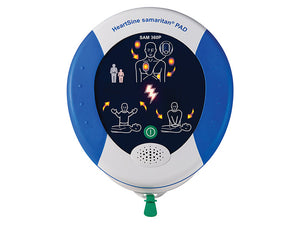 HeartSine SAM 360P
The HeartSine 360P option has all the features of the 350P, but in a fully-automatic device.  Portable and lightweight the HeartSine samaritan AED is much smaller and lighter than other AEDs at only 2.4 lbs. 
With its IP56 rating, the Heartsine Samaritan AED defibrillator offers unmatched ruggedness.
User friendly and easy-to-understand visual and voice prompts guide the rescuer through the entire resuscitation process, including CPR which is a key link in the chain of survival.
8-year warranty as standard clearly demonstrates the reliability of this quality unit.
Controls and electrodes are accessible even with your HeartSine samaritan PAD still in the case.